Regular price
$155.95 USD
Regular price
$169.95 USD
Sale price
$155.95 USD
Unit price
per
Sale
Sold out
Add a touch of beauty and a splash of life to any room with the AquaSprouts Fountain! Water feature, planter, and eye-catching decor, the Fountain can be used as an aquaponic or hydroponic system, or a simple water garden. Create a serene office space or add a splash of color to your patio - with this versatile kit, it's up to you.


Share
View full details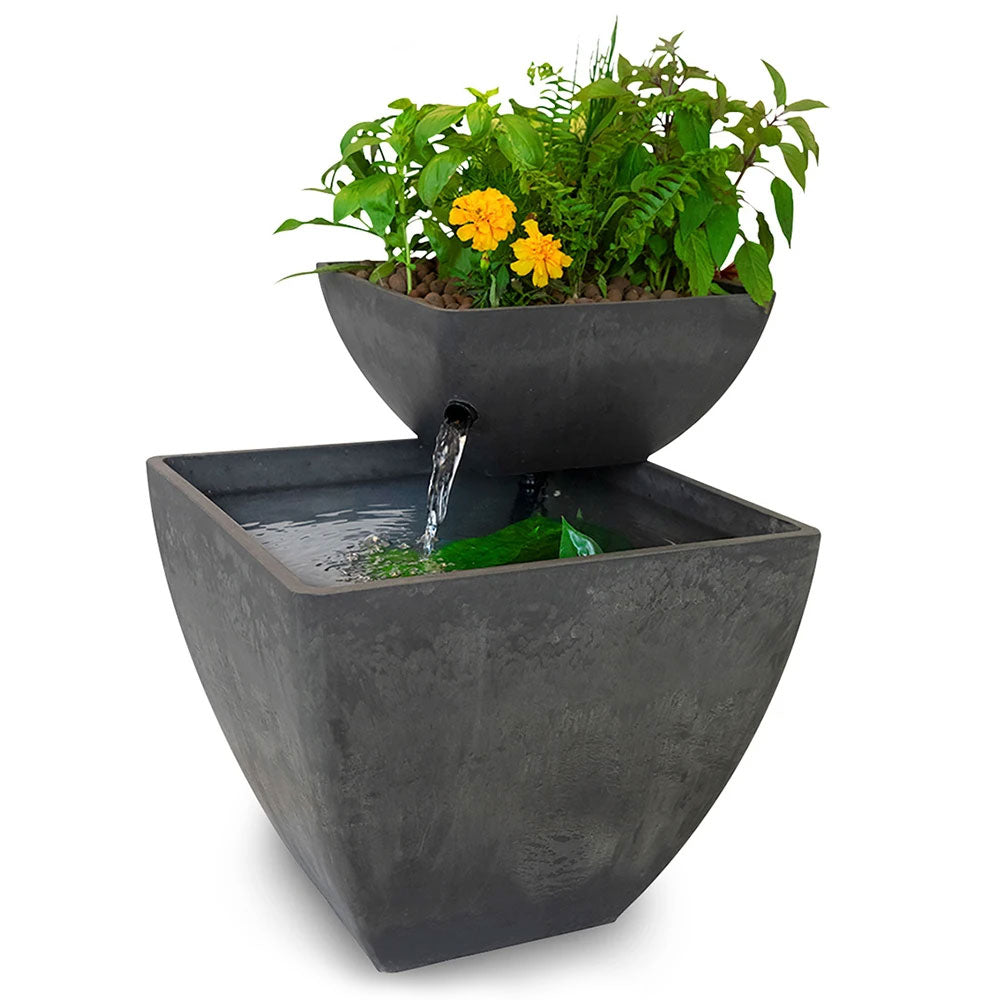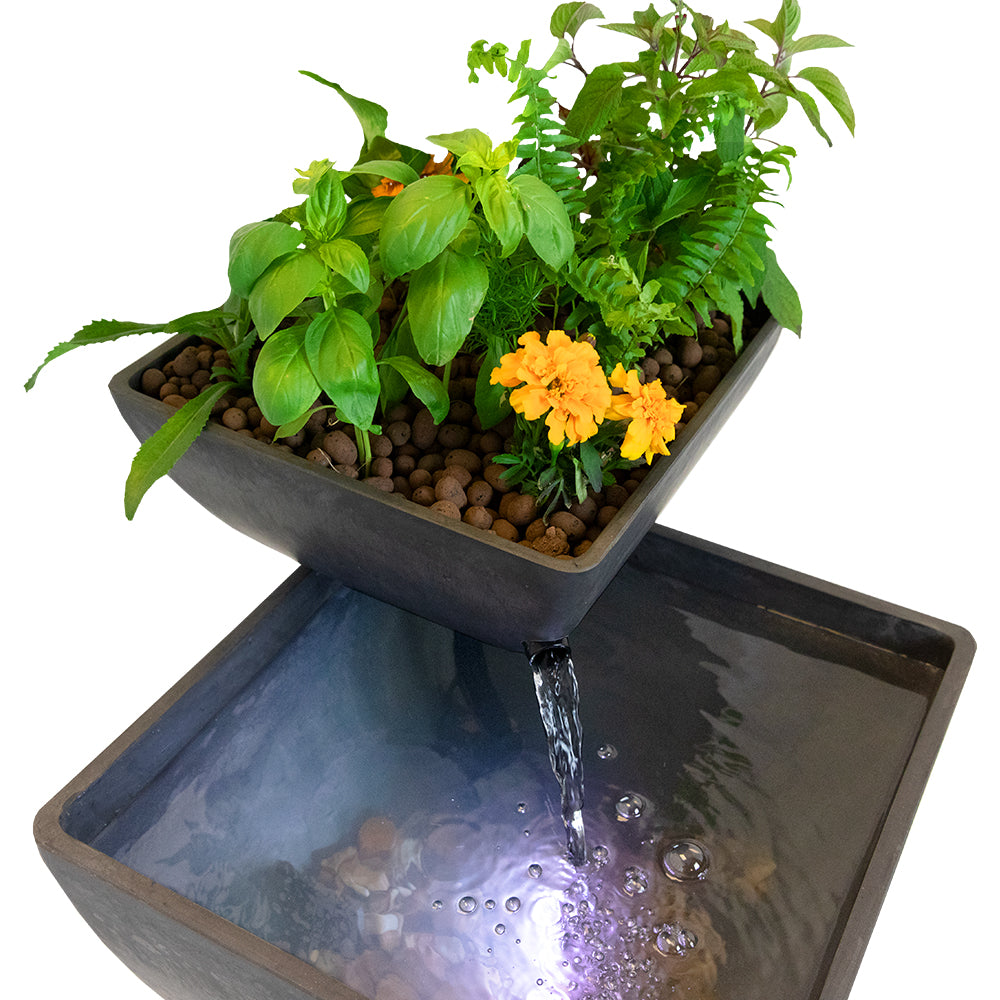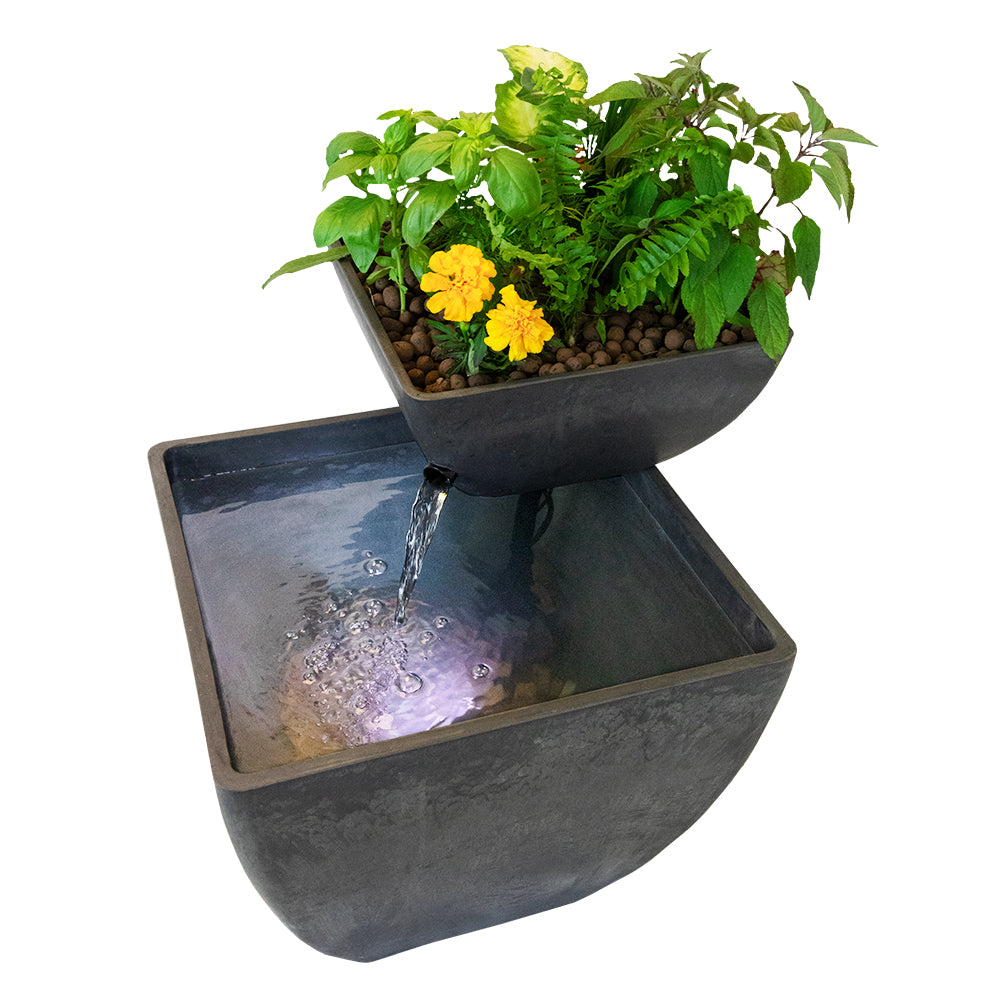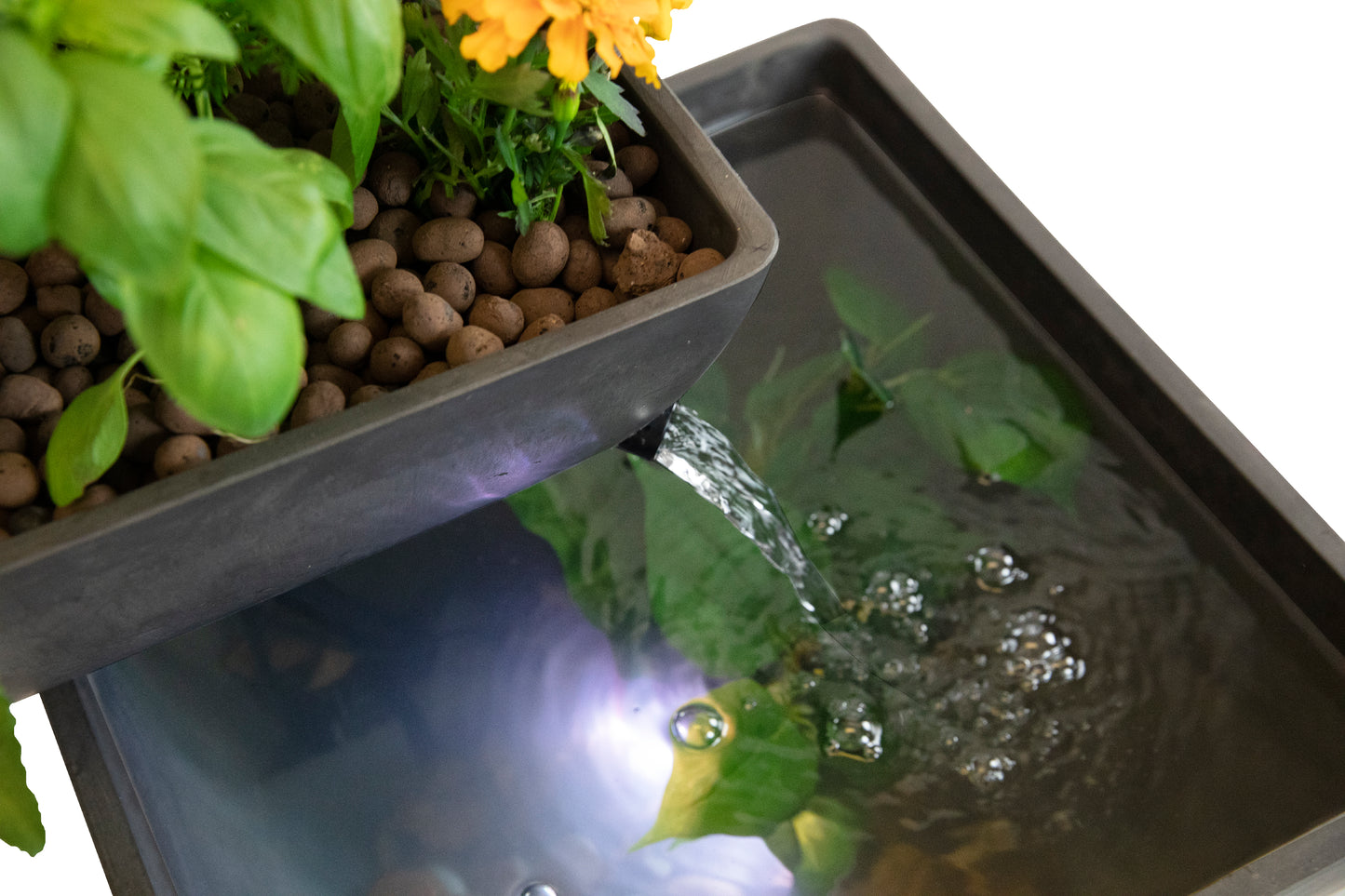 PLANTER & RESERVOIR:

Durable, weatherproof and stone-like grow bed and fountain reservoir. Easily assembled with a classic design.



PUMP & FILTER:

Includes a submersible 160 gallon per hour pump for optimal water flow. Rated for indoor & outdoor use.



ADJUSTABLE PLUMBING:

Control the flow rate of the Fountain and water level in your planter with customizable plumbing fittings.



GROW MEDIA:

Expanded clay grow media replaces soil from traditional gardening and serves as the support for your plants. (Grow media does not degrade)


TECHNICAL SPECIFICATIONS:
Dimensions:

Overall 20" x 20" x 19" h
Reservoir 16" x 16" x 13"

Pump & Plumbing:

160 gallon per hour submersible pump (10 Watts/120V). Adjustable depth fittings included

Fish types:

Small aquarium fish species including tetras, mollies & platies, barbs, and more

Plant types:

Grow houseplants and low-maintenance ornamentals anywhere; place in the sun or add a grow light and grow herbs, greens, and many small-statured fruits and vegetables. Room for 6 plants or more

Color:

Charcoal with natural stone-like color variations


Configurations:

Hydroponic (nutrient blends)
Aquaponic (live fish)
Water Garden (easy care)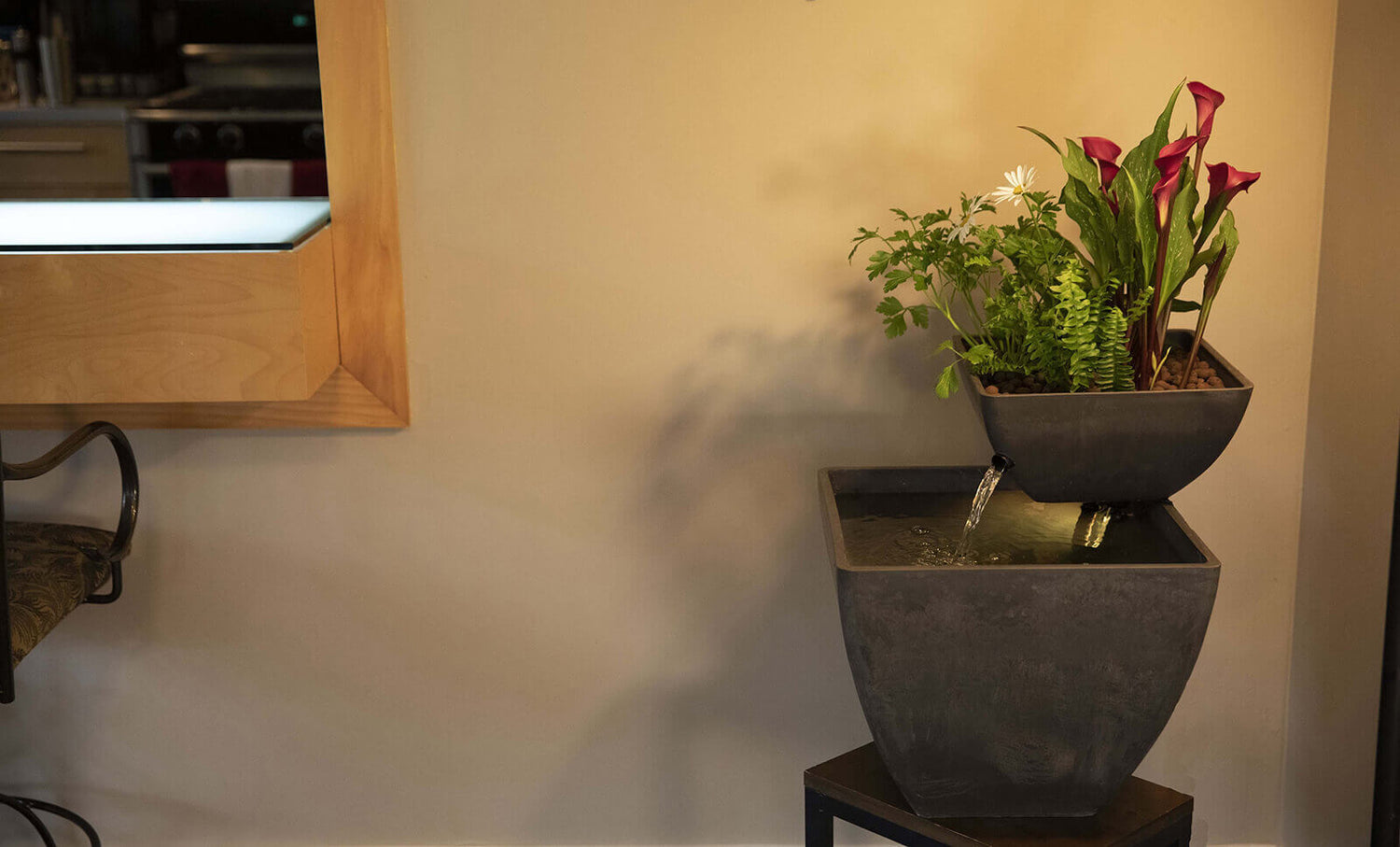 Hydroponics
Not in the mood for fish? Use water-soluble nutrients to keep your plants happy and healthy with ease. Enjoy a tranquil water garden while growing your own personal oasis.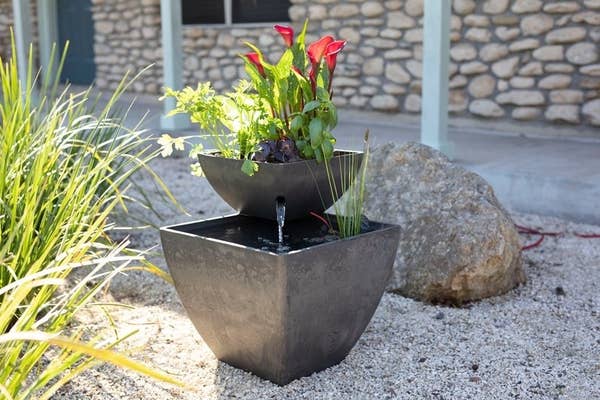 Aquaponics
Use any small freshwater fish to skip the added fertilizer and let Mother Nature be your guide. The fish provide nutrients for the plants and the plants clean the water for the fish. Once established this means a low maintenance ecosystem at your fingertips.

Collapsible content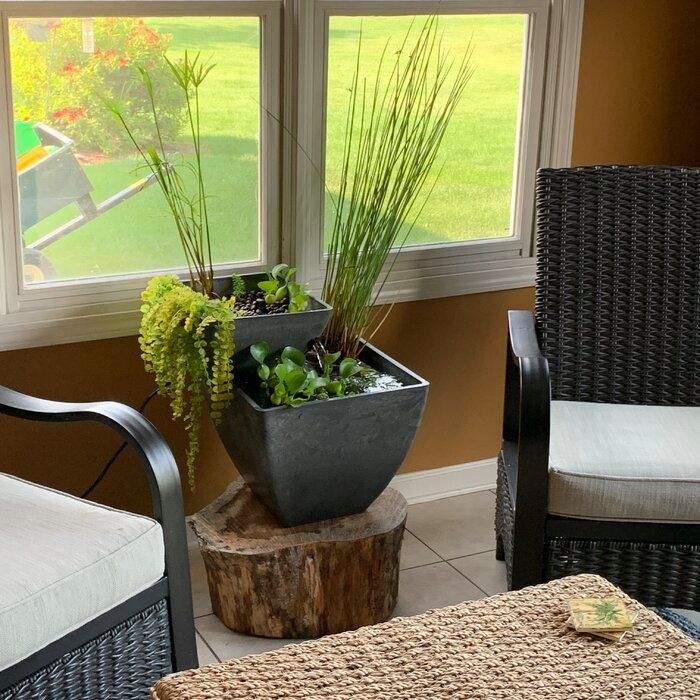 DO YOU HAVE TO USE FISH WITH THE FOUNTAIN?

No, you don't necessarily have to use fish in the AquaSprouts Fountain if you prefer not to. But fish are a vital ingredient in the aquaponic system as they provide the primary source of nutrients for the plants. Without the fish waste, you would need to add synthetic nutrients or organic fertilizers to the water to feed the plant. If you choose not to use fish, you can consider using a product like an organic liquid fertilizer or formulated hydroponic nutrients. Keep in mind that these products are not as efficient and sustainable as using fish waste and can be more costly in the long run.
CAN THIS BE USED OUTDOORS AS WELL AS INDOORS?

Yes, you can use the AquaSprouts Fountain outside, but there are some precautions you should take to ensure that the system remains healthy and sustainable. For example, exposure to direct sunlight, wind and rain can cause drastic temperature swings and water evaporation. It's essential to choose a suitable location, provide shade over the water, and cover the system during extreme weather conditions. Keep an eye out for pests or animals that may be attracted to the water or the fish, which can be harmful to your fish and plants. Additionally, be mindful of the water chemistry and temperature, and adjust as needed to maintain optimal conditions for your fish and plants.
DO YOU NEED A POWER SOURCE FOR THE FOUNTAIN?

Yes, you do need a power source for the AquaSprouts Fountain since it requires electricity to run the water pump. The pump circulates water from the reservoir to the grow bed, providing nutrient-rich water to the plants and helping to keep the water balanced.